Photo: Mikael Ullén
This news is older than 6 months
Summary of the first day of the conference including a film collage
Rapid action is needed to reduce accidents on the world's roads, where 3,700 people die every day. Halved death rates are the Stockholm Declaration's target, among other things, a 30-limit is proposed where cars and people are mixed.
The sense of urgency and distress was also felt in the speeches when 1,700 delegates from 140 countries gathered. Traffic accidents are now the leading cause of premature death among children and adolescents in the world.
– His Majesty King Carl XVI Gustaf inaugurated. He said it was an honor for Sweden to host the conference and just as traffic crosses national borders, so too do the challenges of road safety.–It is important that we come together and can share knowledge, examples and ideas from around the world to improve road safety," said His Majesty.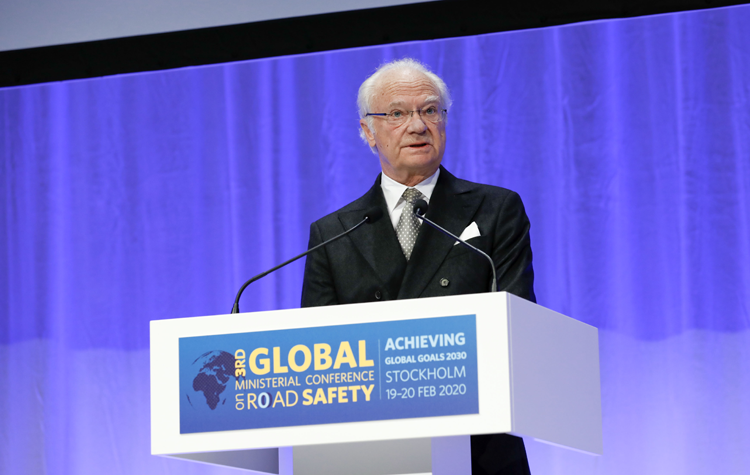 His Majesty the King of Sweden Carl XVI Gustaf.
Foto: Mikael Ullén
The final document set new goals
On Wednesday morning, the Swedish Minister for Infrastructure Tomas Eneroth, presented the conference's final document, the Stockholm Declaration. It has been anchored and negotiated to ensure broad stakeholder engagement around the Stockholm Declaration.
Based on inputs from the Academic Expert Group and previous relevant international declarations and agreements, the Stockholm Declaration was prepared in close collaboration with the conference's steering group, representing several stakeholders. The Declaration went through an extensive consultation with Member States, and a transparent and inclusive public consultation open to everybody around the world.
– We recognize our shared responsibility and call on the Member States to help reduce road fatalities by at least 50 percent from 2020 to 2030," Mr. Tomas Eneroth said.
He continued that a strong political commitment is now needed at all levels, together with regional and national strategies and road safety action plans.
– If we are serious about halving the number of people killed on our roads by 2030, we need a holistic perspective where we include road safety and safe systems as part of our land use, road design, planning of transport systems and management. We know that there are well-known road safety measures with proven impact, which can save 100,000 lives each year, but which have not yet been implemented in most countries.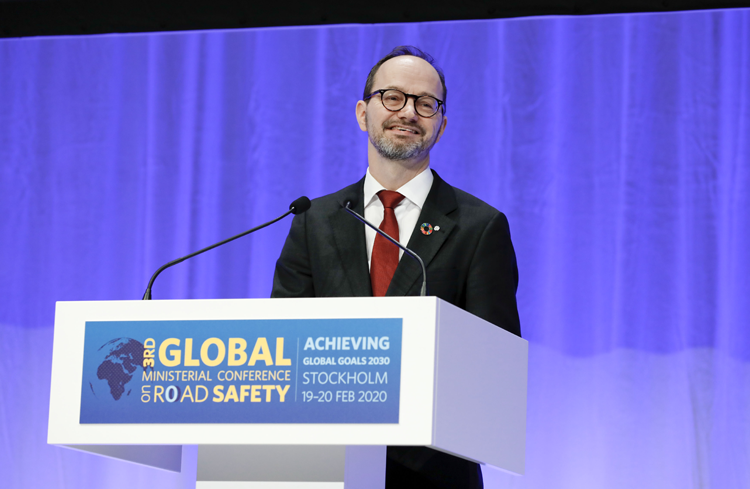 Tomas Eneroth, Minister for Infrastructure, Ministry of Infrastructure, Sweden.
Foto: Mikael Ullén
The next generation demands better road safety
The Stockholm Declaration received applause and approval. But this morning's warmest applause went to Omnia El Omrani, a young medical student from Egypt who represents the World Youth Meeting for Road Safety.
Wearing a yellow hoodie, she spoke with commitment and anger about how traffic in developing countries causes many unnecessary deaths when young people are going to school and work.
– We demand safer and more sustainable transport systems now. We no longer tolerate this. Stop killing our genes, we are not statistics, we are your children, said Omnia El Omrani.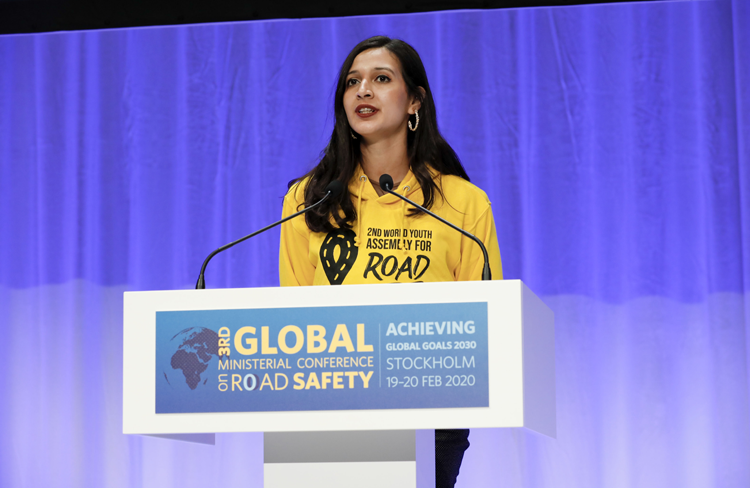 Omnia El Omrani, Co-Chair of the 2nd World Youth Assembly for Road Safety.
Foto: Mikael Ullén
High-level Panels of the afternoon
The firts one, Achieving SDG Targets Through Vision Zero, was introduced by Lena Erixon
Director-General of the Swedish Transport Administration. The aim of this panel was to Identify ways that Vision Zero would help to achieve road safety and other Sustainable Development Goals, explore the recommendations of the Academic Expert Group and identify key priorities for the next decade.
Lena Erixon, Director-General, Swedish Transport Administration.
Foto: Mikael Ullén
This was followed by Building Effective Leadership for Road Safety. Introduced by Lord Robertson, Chairman from the FIA Foundation. Their Global Ambassador Zoleka Mandela touched everybody with her emotional speech. The panel described the key elements of effective leadership in road safety and how to share the road safety experiences of leaders in select private enterprises, countries, institutions and communities. Another aim was to consider ways to build a cadre of effective leaders for road safety.
The last High-level Panel of the first day was Financing Safe and Sustainable Transport Systems. Road traffic deaths and injuries are not only tragic for those affected, but also place an enormous economic burden on countries, costing some as much as 5% of their gross domestic product. It is hoped that implementing the 2030 Agenda for Sustainable Development will generate substantial investments in transport as well as many other areas. This panel with the economic focus was introduced by Lilyana Pavlova, Vice-President of the European Investment Bank (EIB). A statement that stuck was that Road Safety is an investment.
Watch the film collage from the first day of the conference: